COVID-19 UPDATE: Planning a Conservation Area visit? Please call ahead or visit the website to find out if there are any closures or service disruptions. Please find all Conservation Authority contact information here.
Ontario's 36 Conservation Authorities collectively own and operates over 500 Conservation Areas with a total area of 150,000 hectares, making Conservation Authorities one of the largest property owners in the province.
Nearly 300 Conservation Areas are accessible to the public. They play an important environmental, educational and recreational role in Ontario and contribute to the physical and mental well-being of over six million people who visit them each year.
Hidden within these natural gems are lakes, rivers, and streams as well as wetlands, sand dunes, beaches, waterfalls, caves, forests and natural heritage sites – just waiting to be explored!
When you visit Conservation Areas please keep in mind…
Conservation Areas protect forests, wetlands, plant life and wildlife, and improve the overall health of our watersheds, including the quality and supply of our water resources such as recharge areas. It's important to stay on the trail and not pick any plants or trees.
Ontario's Conservation Areas are accessible to individuals of all abilities and a number of trails are specifically suited for walkers or wheelchairs.
Dogs are allowed in Conservation Areas provided they are leashed. Please help us keep Conservation Areas clean by picking up and disposing of pet waste.
Conservation Areas encourage people to get outdoors and be active, as well as enjoy and appreciate nature. They provide year-round facilities and outdoor recreational opportunities for people of all ages and a range of abilities, including picnicking, geocaching, bird-watching, boating, camping, swimming, hiking, fishing, cycling, snowshoeing, downhill skiing, cross-country skiing and even more extreme recreational sports such as snowboarding, rock climbing and ice climbing. Although some Conservation Areas have limited access in order to protect sensitive lands and/or wildlife, many provide important public recreational opportunities at low or no cost.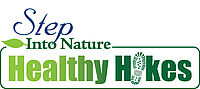 Healthy Hikes is an annual health and wellness campaign run by Conservation Ontario, the 36 Conservation Authorities and partner organizations. The initiative was started in 2013 to encourage Ontarian's to develop a fitness habit by stepping into nature at any of Ontario's Conservation Areas.
Each year, the campaign is run from May to October and during this time Ontarians are encouraged to #StepIntoNature and participate in many hikes and activities at their local Conservation Areas.
Healthy Hikes is also a proud partner of Mood Walks, an initiative of the Canadian Mental Health Association, Ontario. Mood Walks is a province-wide initiative that promotes physical activity in nature or green exercise, as a way to improve physical and mental health. Learn more about Healthy Hikes.
Benefits of Healthy Watersheds
Conservation Authorities deliver practical, cost-effective programs that ensure healthy ecosystems which enable them to generate and maintain valuable goods and services, often preventing the need for costly technological solutions to environmental problems.
Human Health
A healthy watershed provides safe drinking water, food, enables us to adapt to the impacts of climate change by cooling the air and absorbing greenhouse gas emissions, and provides natural areas for people to keep active. Conservation Ontario is a partner of EcoHealth Ontario.
Ecological Health
A healthy watershed conserves water, promotes streamflow, supports sustainable streams, rivers, lakes, and groundwater sources, enables healthy soil for crops and livestock, and provides habitat for wildlife and plants.
Economic Health
A healthy watershed produces energy and supplies water for agriculture, industry and households. Forests and wetlands help to prevent or reduce costly climate change and flooding impacts, manages drought, contributes to tourism, fisheries, forestry, agriculture and mining industries.